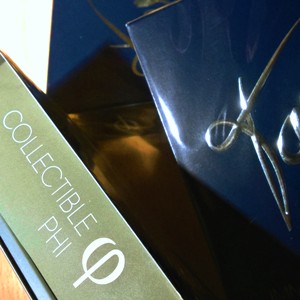 Today I invite you to take your chance at Fragrantica, to win one of 100 samples of PHI-une rose de Kandahar. Thanks to Jeffrey Dame and Hypoluxe, and to Fragrantica, I got this great chance to share this latest fragrance of my Collectibles line with perfume lovers who share their passion there.
And I got the chance to  talk a little bit about what makes PHI special and why it is not part of the regular line, and more. You find it all here on Fragrantica, and a quote that I will use from time to time again. I came up with it at the end of the interview and found it fits perfectly.
"I am convinced that the world has not seen enough roses, yet."
(today's picture shows you details of the tin box packaging of PHI with the cardboard around it, and the PHI - collectibles label on the side)