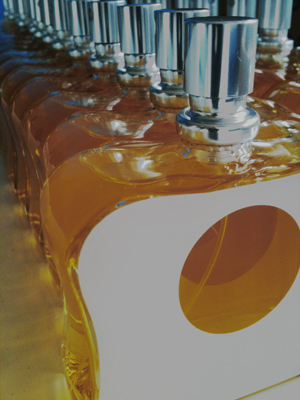 Today, I was pouring Loretta fragrance into about 180 Loretta flacons, 50 ml, and 200 purse spray vials of 7 ml. Tomorrow, as much as possible, I will add stickers and labels to some of the flacons. The picture of today, taken with the phone, shows you the first flacons, all naked, without any labels: Kind of flacons "olalal" .  The orange-yellow color is close to reality and the "juice" looks like honey inside the flacon.
"Pouring fragrance into flacons" means using a manual dispenser of 10 liters, pumping up and down, adding the pump and crimping (closing) the pump onto the flacon. As simple as that; just a bit tedious and a lot of hand work. Adding the stickers and labels is equally simple, but a bit time consuming. But there is time until Piti Fragrance (mid September).
More news from the lab: I worked on a tuberose scent over the weekend and I am always amazed, again and again,  about the complexity of tuberose absolute. To be honest with you: I have slowly but surely reached a point where I have to face that I have a LOT of scents on the market already. And seeing my designer lifting his eyebrows when I tell him about new scents makes me wonder. ... But independent of any launch second thoughts:  I feel that it is simply fun, creating and thinking about a going to be fragrance, mixing notes and bases in your head and then in a bottle and then see how wrong you were...